PHOTOLOG
A small dive into the world behind the scenes of making Playing Shakespeare with Deutsche Bank goes from planning to real-life performances.
Working on Playing Shakespeare requires a lot of work from a variety of departments but for right now a selection of people have been chosen and will explain to you a little about their role and how they got here.
DIGITAL DEPARTMENT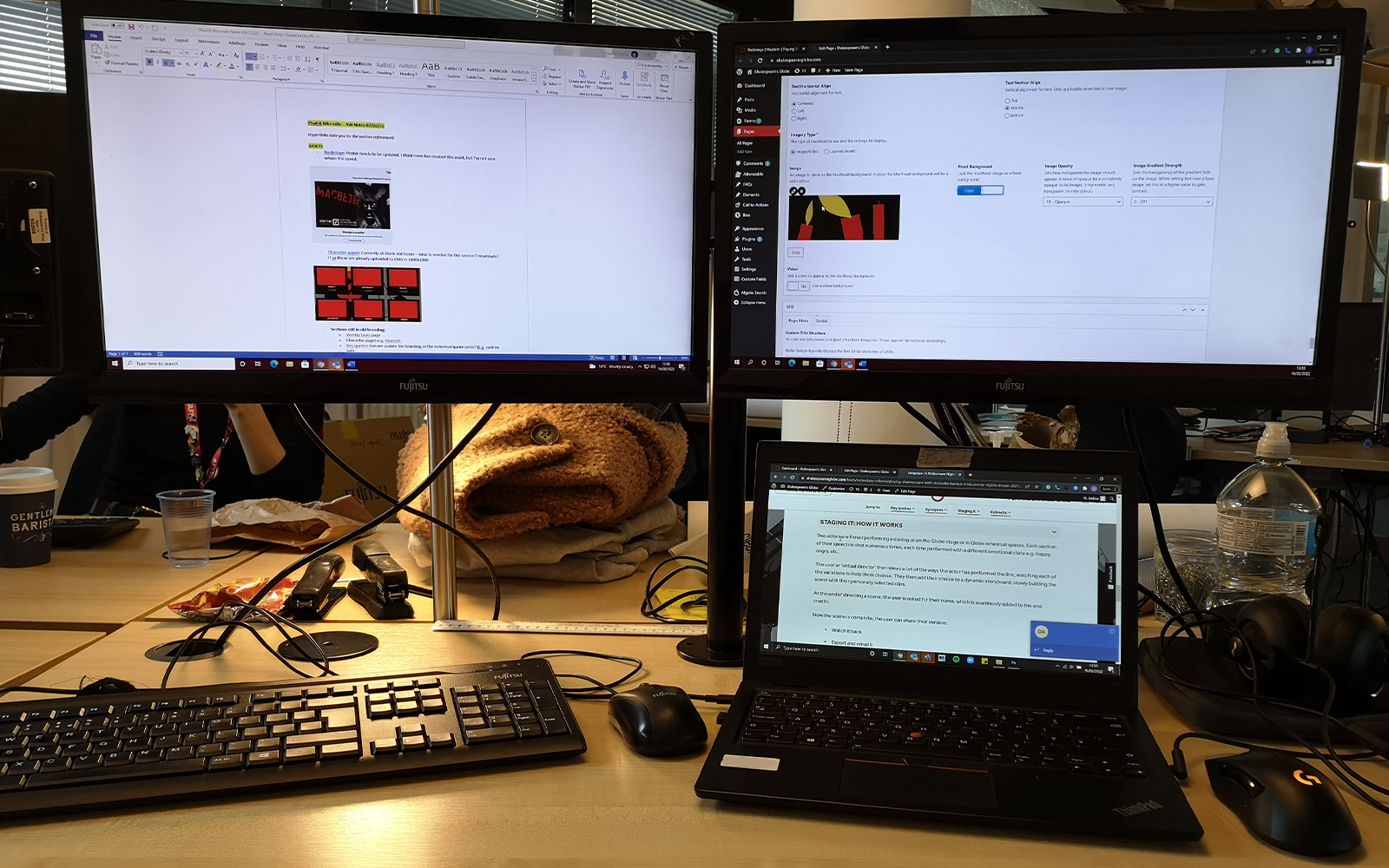 Jadzia | Digital Officer | Website
I joined the Globe during its very first apprenticeship scheme and was one of four apprentices, so I was able to join a workforce learn what it's like to work in an office type setting but also able to blend school life in also.
I was then able to move around through different departments and was able to land my first ever full-time role here as a website assistant and worked my way up to now being a digital officer, where I am able to apply all my learnings and more to the website you are currently on. I can create interactive quizzes and puzzles, other content on the site and make it specifically for you.
Theatre is a wonderous place and has a variety of different jobs and opportunities that you can find that suits you, I never would have known about the theatre world like I do now if I wasn't lucky enough to find the Globe and be accepted as an apprentice.
Summer | Digital Content Officer | Multimedia
My route into theatre (like most routes into theatre) was a bit of an odd one. When I was in school I was convinced I was going to be The Next Big Thing in acting. I remember performing a version of Twelfth Night with school and I'd been cast as Antonio (the pirate who rescues Sebastian). After the performance, someone from the National Youth Theatre came up to me and told me to apply for their summer programme, and I was lucky enough to be accepted.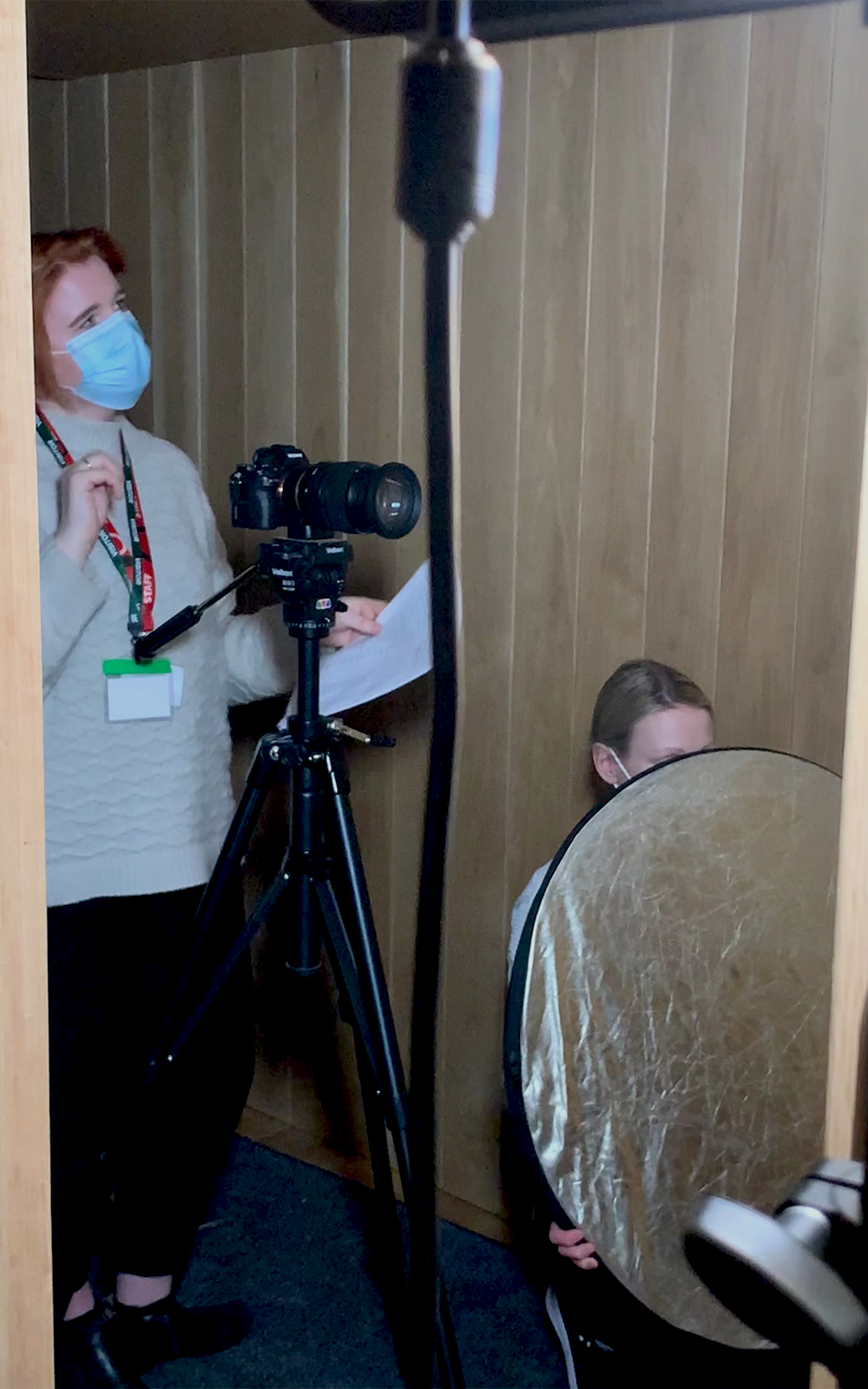 It was during this programme that I ended up meeting people who made films and I thought that it sounded fun, so I gave it a go. Filmmaking allowed me to take my love of acting, films, writing, history, comedy and to blend it into one thing. After that, I was hooked.
I ended up going to Royal Holloway, University of London to study Media Arts and I really threw myself in to as many extra-curricular as I could. I volunteered for everything I could, made films for different societies, events, and even got hired to film a few weddings! After graduating I used all those experiences to pursue content creation, which eventually led to me starting at the Globe in October of 2021.
If 15 year old me could see that I was getting to create really fun projects for THE GLOBE I don't think I would have believed it. I'm leading on the video side of content creation for the Playing Shakespeare with Deutsche Bank project this year, which has been such an amazing one to jump right into. Getting to work with actors and students and creatives from all across the Globe is so fun. No two days are the same when you're making films, and you learn so much when you do it.
At the same time as working, I'm also doing an MA in Creative Writing for Young Adults. It might seem like a bit of a change from filmmaking, but really, storytelling is the essence of everything I love. Engaging young people in the telling of stories (whether through film, theatre, novels, or blog posts featuring pictures of my cats… ahem) is the core of what I know I love, so when I find myself unsure about what I want to do next, I always go back to that key thing. As long as I get to be creative, and do something meaningful, I'll be having a good time!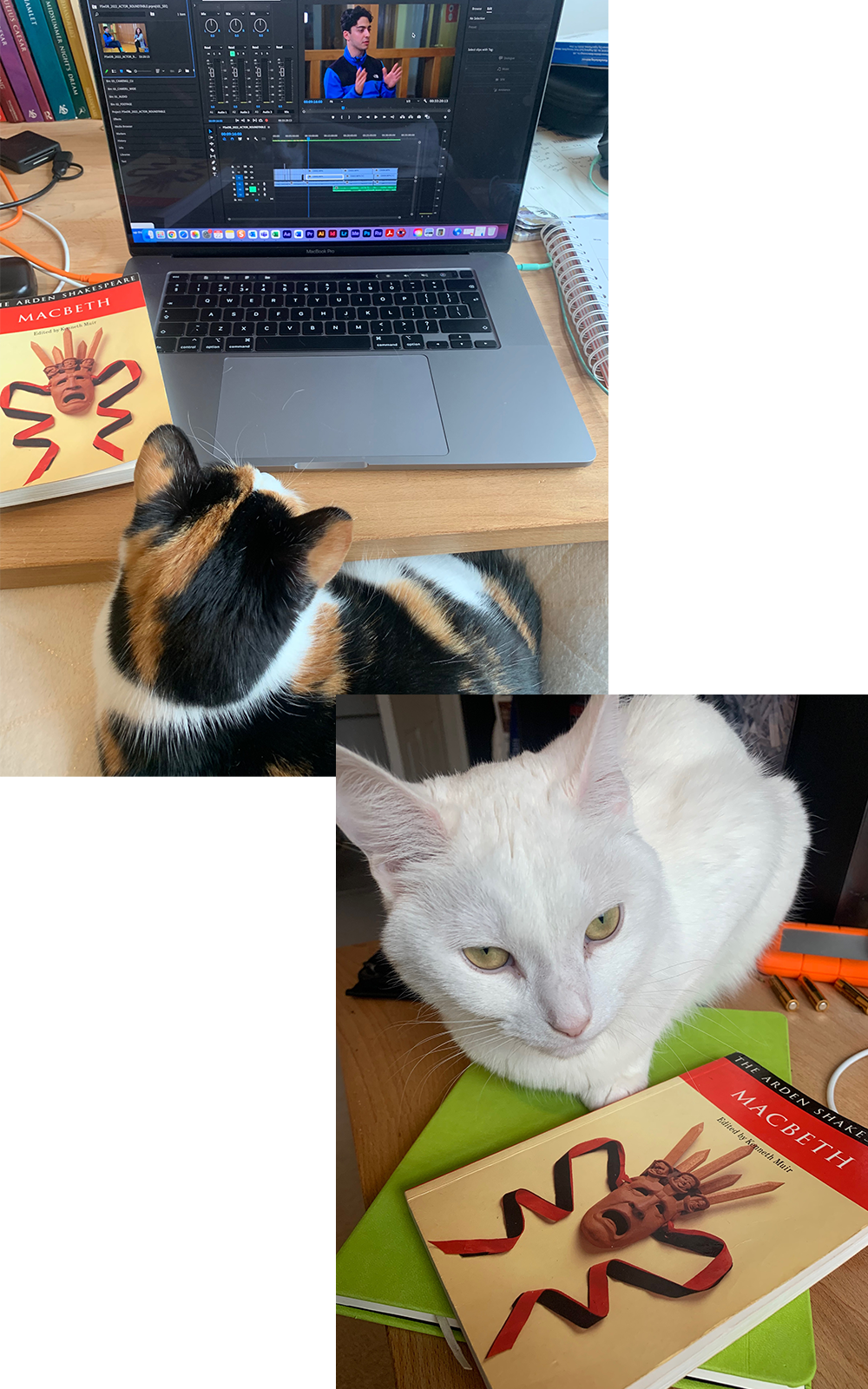 THEATRE DEPARTMENT
Emma | Head of Props 
I am the Head of Props at the Globe – working on all props across the productions and bringing in our favourite very talented freelancers to help. I studied Scenic Arts at Rose Bruford College and then went straight into the world of prop making as a freelancer for the next decade. I love working on Playing Shakespeare with Deutsche Bank as a project – it's always got some fun props to make. I've been busy this week with these poly-carved apparitions which are yet to be painted…but eventually they should look like a bit of driftwood come to life.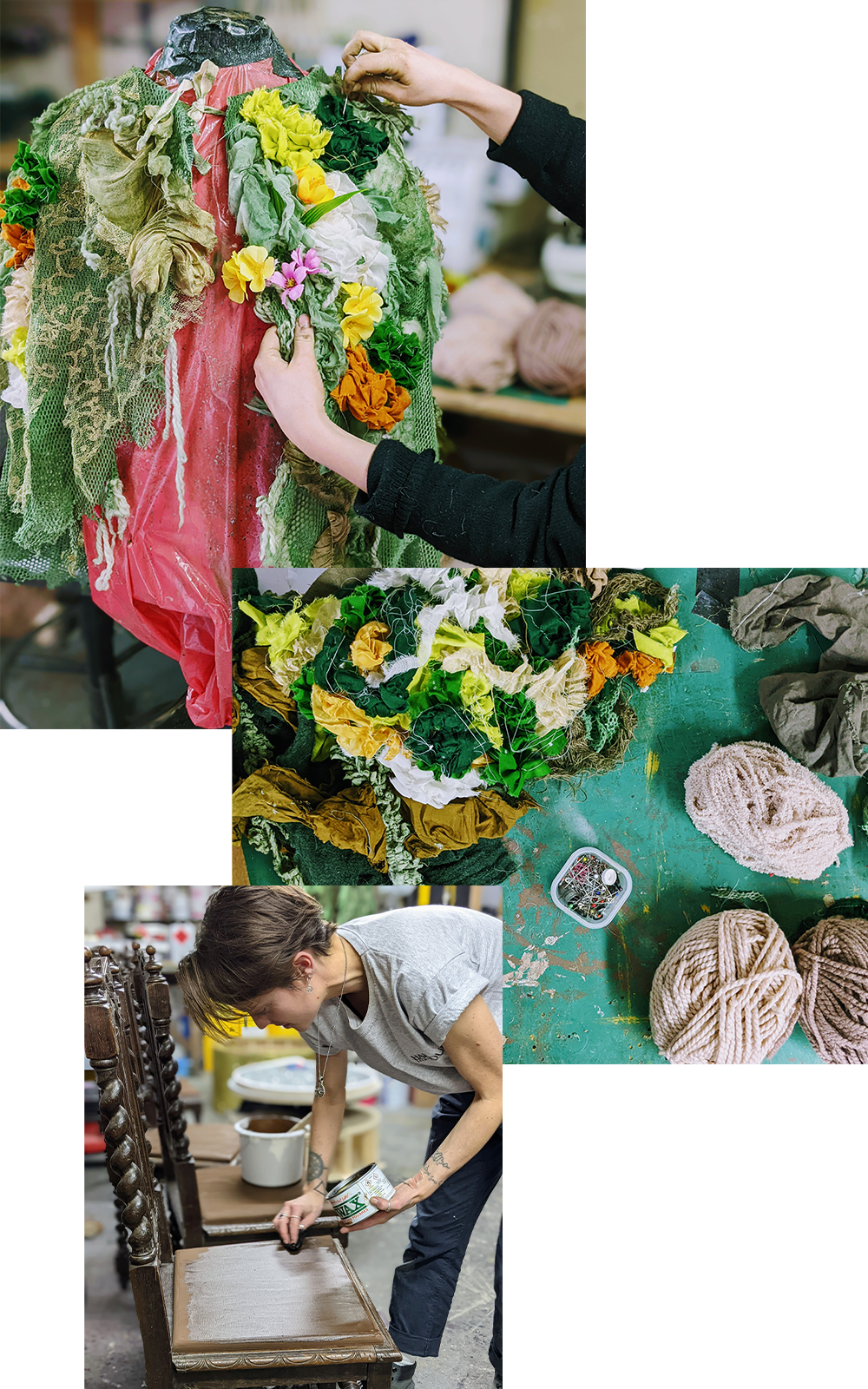 One of our fantastic freelancers, Mel, has been busy making some mossy-looking witches' cloaks, with lots of green dye and loads of different materials coming together to give the appearance they've grown from nature. With both these props we have had to think about what the designer would like to achieve, the creative process to bring something to life, and then of course the practicality of how the actor will use or wear them. Hopefully I'll have played my part in helping to spook some school children with Macbeth!
OTHER RESOURCES YOU MIGHT LIKE